Welcome to the website of The Wellbeing Centre - room hire
ROOM 5 Workshops & Meetings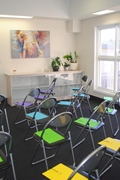 A medium sized room with a kitchenette and natural light, the room has the capacity for up to 20 people max, ideal for small events and meeting style requirements. It includes 20 chairs, 8 yoga mats and cushions, 2 fold out tables and facilities for making refreshments (bring your own tea/coffee etc) A client waiting area and complimentary wifi are provided. There is a large whiteboard on one wall.
ROOM 4 Counselling & Bodywork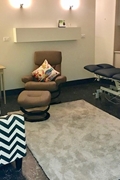 Set up with a comfortable recliner, massage table and arm chair, this room is peaceful with soft lighting. There is a desk to work from with complimentary wifi, herbal tea and filtered water are provided. There is a quiet client waiting area for your convenience.
127 George Street (old Roman baths building), PARKING - 3 hour on street & several multi space/car parks within 3 min walk, Launceston
Monday

Tuesday

Wednesday

Thursday

Friday

Saturday

Sunday

9:00am - 8:30pm

9:00am - 8:30pm

9:00am - 7:30pm

9:00am - 7:30pm

9:00am - 6:30pm

7:30am - 6:00pm

8:00am - 6:00pm