WE RENT ROOMS FOR WELLBEING PROFESSIONALS We provide room hire on an hourly basis, rooms are chosen by you using this simple online calendar. Each room is comfortably furnished and professional, the centre is light and peaceful and the energy is calm and conducive to healing. Sessions are booked ranging from 1.15 hr to full day. You can book multiple sessions in a row and the time includes set up and clean up. You only book and pay for the hours you actually see clients. Payments are made at the time of booking. Rooms are available on a day or week basis for longer terms at reduced rate, for enquires please email info@bikramyogalaunceston.com.au. Each of our rooms are only shared by registered, insured professionals like you and like you, everyone is using the rooms to run and grow their own private practise. We help you grow! With regular room hire, you have the option to feature on the Bikram Yoga website under Wellbeing therapies and we are happy share any events on social media that you facilitate in the centre. Our Yoga studio offers Bikram, Vinyasa, Yin, Pre-natal and Kids yoga. We are open 7 days with around 300 people through our doors weekly. Both Yoga Studio and Wellbeing Centre are run by Jacki Walker, Director and Bikram Yoga teacher. We believe in authenticity, self empowerment, potential, kindness and community. Our mission is to Inspire Human potential everyday. We look forward to working with and alongside like minded people.
WORKSHOP ROOM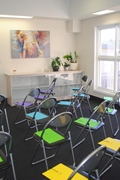 ROOM 5 A medium sized room with a kitchenette and natural light, it has the capacity for up to 20 people max, ideal for small events and meeting style requirements. It includes 20 chairs, 8 yoga mats and cushions, 2 fold out tables and facilities for making refreshments. Wifi and a client waiting area also included.
CONSULT ROOM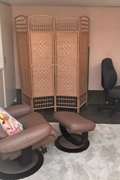 ROOM 1 A cozy and relaxed feel with a large skylight, the room has a comfortable recliner, desk and chair making it great for counselling style appointments, the room also fits a portable massage table if you wish to bring your own. There is wifi and a client waiting area for your convenience.
TREATMENT ROOM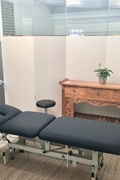 ROOM 3 This lofty room is filled with natural light from the large skylight above. The room is set up with a comfortable massage table which is height adjustable with an electric foot pedal. The room also has an adjoining bathroom/toilet. There is wifi and a client waiting area for your convenience.
127 George Street (old Roman baths building), PARKING - 3 hour on street & several multi space/car parks within 3 min walk, Launceston
Monday

Tuesday

Wednesday

Thursday

Friday

Saturday

Sunday

9:00am - 8:30pm

9:00am - 8:30pm

9:00am - 7:30pm

9:00am - 7:30pm

9:00am - 6:30pm

7:30am - 6:00pm

8:00am - 6:00pm